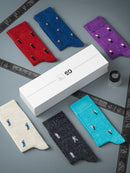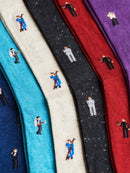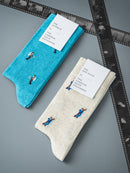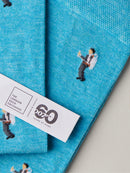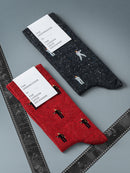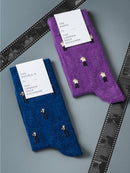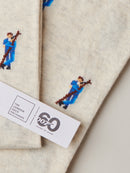 A perfect present!
Gifted these to my boyfriend for his birthday, and he was over the moon! He actually said it was the best birthday present he'd ever had, which says more about him than about my gifting skills, I promise. The socks strike that perfect balance between elegance and fun — just as James Bond always should — they're very soft and seem very durable. Also, I did not realise when I bought them that they'd be coming in such a great box! The instructions about what outfits would go well with each pair are a very nice touch, too. Very pleased with every aspect of this purchase; it was my first time ordering something I'd seen on an Instagram ad so I was a little anxious. I can't wait to see what other designs the team comes up with next!
The 007 Anniversary Giftbox
60 years in the making
The
Jetpack
Inspired by the many tools, gadgets and technologies which have been issued to 007 by Q Branch: from the not-so-ordinary black leather case in From Russia With Love (1963) all the way to the Q-DAR in No Time To Die (2021). 
Our pick of Bond's gadgets arrived in Thunderball (1965): as Bond escapes from the roof of a SPECTRE-infested château, he deploys his special-issue Bell Rocket Belt to take to the skies and evade his adversaries once more. It's this iconic moment we pay homage to in 'The Jetpack'. 
The
Off-Piste
A mix of epic mountain scenery and dramatic snowy slopes have been the perfect conditions for 007 to take on his adversaries over the years: from Bond evading his would-be assassins in the opening sequence to The Spy Who Loved Me (1977), to mistreating that Stradivarius as he careers down the mountains in The Living Daylights (1987), to his thrilling chase of Hinx through the Austrian snow in Spectre (2015). 
Our pick of Bond's snow moments is the first time we see Bond take to the mountains, in On Her Majesty's Secret Service (1969). As 007 escapes Blofeld's lair high atop the Swiss peak, Piz Gloria, he tackles everything from ski-slopes to a bobsleigh run to an avalanche – all while sporting an immaculate, iconic, royal-blue ski-suit. It's this iconic sequence which has inspired 'The Off-Piste'.
The
Undercover
In 60 years' worth of missions, we've often seen 007 working in full stealth mode. 
From an assasination assignment in Bratislava  (The Living Daylights, 1987) to infiltrating the Ice Palace, Iceland (Die Another Day, 2002), to picking up the enemy's trail in the ruins of the former MI6 HQ in London (Spectre, 2015), Bond works best when he's lightly armed, disguised under the darkness of a black turtleneck. 
It's also how we see Bond in one of our favourite 007 sequences, as he arrives on the Caribbean island of San Monique in Live And Let Die (1973) – armed only with his wits and Smith and Wesson Model 29, carried in a brown leather shoulder holster.  It's this iconic moment which has inspired 'The Undercover'. 
The
Moonraker
From Japan in the East (You Only Live Twice, 1967) to San Francisco in the West (A View To A Kill, 1985), to Iceland in the North (Die Another Day, 2002) and Madagascar in the South (Casino Royale, 2006): for 60 years we've watched 007 journey to the farthest flung corners of the globe as he doggedly undertakes his missions. 
But no journey has taken James Bond anywhere more exotic than his destination in 1979's Moonraker – in which 007 ventures off the planet and into outer space for the very first time. It's this groundbreaking, gravity-defying mission which we mark in 'The Moonraker'.
The
Agent
007 first appeared wearing the iconic ivory dinner jacket in the pre-credits sequence to Goldfinger (1964).
Since then, we've seen Bond sporting similar evening suits in tropical conditions around the world: from his first encounter with Plenty O'Toole in Diamonds Are Forever (1971), to facing off against Kamal Khan and his Fabergé egg in Octopussy (1983), to riding the Oriental Desert Express across the North African desert in Spectre (2015). 
It's been a timeless look for the world's most famous spy – and has inspired this reissue of 'The Agent' design in an all-new sunset purple colourway.
The
Double-O
For the last 60 years, we've seen every incarnation of James Bond appear in a dinner jacket. It's how the world met 007 in Dr. No (1962), and the outfit has been his signature look across generations since. 
By way of tribute, we've re-issued one of our classic 007 Collection designs in an all-new midnight navy colourway: 'The Double-O'.